At Fort Knox, we know that buying that RV, Camper, Trailer, Boat, or Equipment was a significant investment in something you are passionate about. Not only did it take money, but now this thing is your pride and joy. That's why it deserves to be kept safe and secure.
A well-maintained boat gives you endless opportunities for adventure and fun. Your RV can take you to some of the most remote parts of the country. However, it would help if you had a safe place to store them. A place where they can be kept secured, monitored, and ready for your next adventure, that's where Fort Knox RV Storage comes in.
The Secure Grand Junction Facility
At Fort Knox RV Storage in Grand Junction, our boat and RV storage facilities are perhaps the next best thing short of having them stored in Fort Knox (the US gold facility). In fact, that's where our security takes its inspiration from, but we go one step further to ensure that your boat and RV are always ready, regardless of when you may need them.
We are dedicated and experienced in sheltering boats and RVs from across Grand Junction, Mesa County, and other western Colorado towns. Our RV Storage Facility is considered the best when it comes to ensuring that our client's possessions are kept in pristine condition. So, you can drive in and pull your RV or boat away.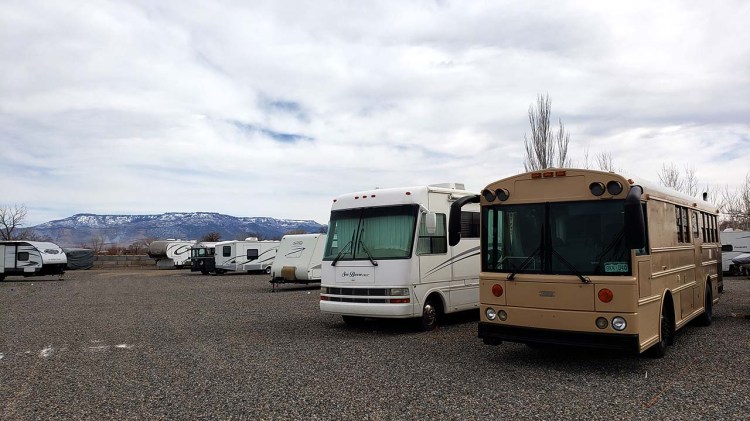 Why Choose Our Boat and RV Storage?
Here are a couple of reasons to choose Fort Knox RV and Boat Storage:
We have a large storage area for both boats and RVs
Our facilities are fully enclosed with a concrete boundary wall
24-hour access available for boat and RV owners
Over a decade of experience
The Most Highly Reviewed Company in Grand Junction
Over the years, we've earned a reputation for being professionals who take care of your boat and RV like it was our own. As a business, we understand how much you care about your passion for adventure, which is why we make sure that they continue to remain in pristine condition until you want to take them out.
Our excellent customer service and attention to every detail are why we continue to be the storage company of choice.
We Invite You To Visit Our Facilities
2920 D 1/2 Road
Grand Junction
,
Colorado
81504
Monday, Tuesday, Wednesday, Thursday, Friday, Saturday
9:00 am – 5:00 pm
Even though Fort Knox has one of the most secure, if not the most secure, RV and boat storage facilities in Grand Junction, you are welcome to come and take a look around. If you have never seen our facilities from the inside, the tour should help you understand the effort we put into ensuring that our client's belongings are safe.
Call us today to book a tour of our facilities. We can arrange for a walkthrough during business hours over the week. You're under no obligation to choose us after the tour, but most people do because what they see impresses them.